Hitch Racks for Cars
& Pickup Trucks


MADE IN THE USA
FROM AMERICAN MADE COMPONENTS
High Quality Aluminum and Stainless Steel
FREE SHIPPING *
*within the 48 USA
Aluminum and Stainless Steel - They Never Rust
| | | |
| --- | --- | --- |
| | | |
| Hitch Rack on Truck | | Hitch Rack on Car |
HR-1 Hitch Rack is 450.00 + FREE Shipping (48 USA)
Scroll Down the Page for Details & Option's Pricing
All aluminum hitch rack will allow you to carry up to two canoes or five kayaks by using it as the rear carrier. Use an existing front rack, or add our universal suction cup rack or truck rack for the forward carrier. The longer span can increase stability. It fits into any existing 3/4" hole for accommodating a ball hitch. Offset option is available to allow you to still use your hitch to tow a trailer at the same time. By installing a front hitch to a pickup, you can install the hitch rack as the forward carrier in instances where you need to carry a boat farther forward, such as with a 5th wheel on a pickup bed.
| | | |
| --- | --- | --- |
| | | Hitch Rack can fit in either a standard bumper hitch or a receiver type hitch. Hitch rack telescopes up to fit the largest pickup height or lower for cars. |

The top horizontal bar is padded for 36". Telescoping built in extensions extend the width of the top bar to 57" wide. Rack extends up to 66" high, will fit all large size pickups, including Ford 350.

Hitch Rack on front with TT-1 on rear

By installing a factory front bumper hitch, the Hitch Rack can be installed on the front of a vehicle.

For Very long boats

For Fifth Wheels

For Towing trailers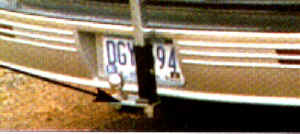 Offset option lets you tow a trailer and use Hitch Rack


| | | |
| --- | --- | --- |
| | | Hitch Rack Base bolts to ball shank hole in bumper or receiver bars 3/4" hole. Included with HR-1 Hitch Rack |

Load Stops

Optional Load Stops LS-4

LS-4 Load Stops come as a Set of 4. Use them on the TT-2 Truck Rack, The NSC-2 Roof Rack, and the HR-2 Hitch Rack. Prevents your boat from shifting from Side to Side. Quickly attaches to most other cross bars. Sturdy aluminum frame with Non-Marring Vinyl Block. Slides to any position on Bar.

Individual Stop is approximately 3" High x 4" Wide
Fits up to 2-3/4" Wide x 2-1/4" High Square or Rectangular racks and Fits up to 2-1/4" round bars.
| | | |
| --- | --- | --- |
| KS-1 Kayak Saddles can be added to the HR-1 Rack | | |
HR-1 1 Hitch Rack is 450.00 + FREE Shipping & Handling 48 USA
Optional Extra Equipment

LS-4
Set Of 4 Load Stops
130.00
KS-1
Kayak Saddle Set for One Kayak
170.00
K-ST
Set of Two 8' Straps for Kayak
20.00
C-ST
Set of Two 15' Straps for Canoe
25.00
OFF-1
Offset (to use hitch rack and trailer ball together on same drawbar)
Hitch Rack includes set of stabilizing straps and 2" x 2" Draw bar 8" long blank
Use your existing front rack or you can order a single Truck Rack or a single Suction Cup Rack.