Universal Roof Racks


FREE SHIPPING ON ROOF RACKS*
*within the 48 USA
MADE IN THE USA
FROM AMERICAN MADE COMPONENTS
High Quality Aluminum and Stainless Steel
Aluminum and Stainless Steel - They Never Rust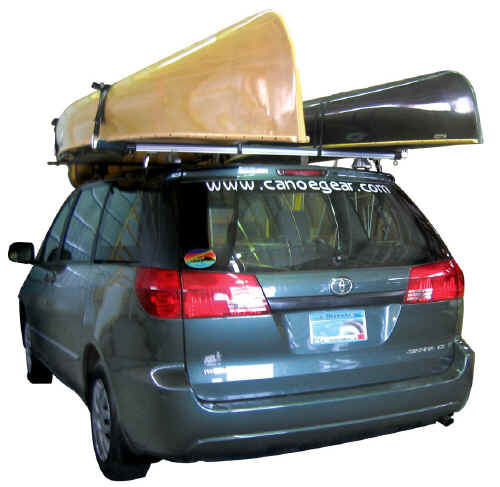 Universal Roof Racks adjust to fit any vehicle to carry multiple canoes or kayaks
NSC-2 Set is 690.00 + FREE Shipping (48 USA)
Scroll Down the Page for Details & Option's Pricing


Standard loading bars extend an additional 20" for loading or wider boats.


Suction Cup Rack with loading bars

Quickly installs or removes without any tools
Model NSC-2. These universal roof racks do not require any special clips for your car. The straps thread through your open doors. On two door cars the rear strap threads through the rear windows. The suction cup mounts protect your roof. Top of racks are padded. Made of aluminum and stainless steel, they never rust. Wide enough for two canoes, multiple kayaks, and small sailboats. The telescoping arms double as loading bars. Racks are rated for 300 lbs, although your car's roof may have a lower load limit.
Fits any vehicle - change from one to another with ease



Suction Cup Rack shown with loading bars extended


Load Stops

Optional Load Stops LS-4

LS-4 Load Stops come as a Set of 4. Use them on the TT-2 Truck Rack, The NSC-2 Roof Rack, and the HR-2 Hitch Rack. Prevents your boat from shifting from Side to Side. Quickly attaches to most other cross bars. Sturdy aluminum frame with Non-Marring Vinyl Block. Slides to any position on Bar.

Individual Stop is approximately 3" High x 4" Wide
Fits up to 2-3/4" Wide x 2-1/4" High Square or Rectangular racks and Fits up to 2-1/4" round bars.
| | | |
| --- | --- | --- |
| KS-1 Kayak Saddles can be added to the NSC-2 Rack | | |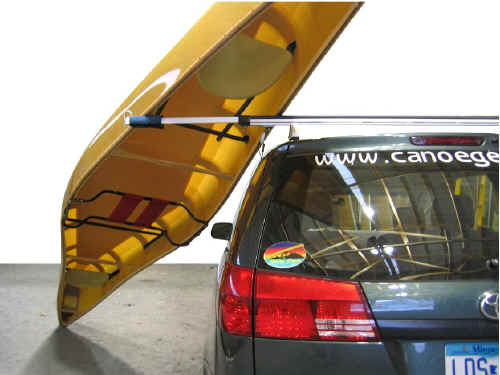 Loading bars make it extremely easy for one person to load a canoe or kayak.
Top of rack is 65" * wide closed, the loading bar/side extension on each side are 20", giving a maximum width of 105" possible with both sides fully extended. Extensions will adjust in increments to fit many possible size requirements. The top rack bar is 2-3/16" wide and 1-1/2" high. Rack bar is in 2 sections to allow easy trunk storage when not in use. Clearance from Top of Rack to Vehicle roof is 5", Clearance from Underside of Rack to Vehicle roof is 3-1/2".

NSC-2 1 Set ( 2 racks) are 690.00 + FREE Shipping & Handling 48 USA
If you need only one rack - order NSC-1
NSC-1 Consisting of only one rack 345.00 + FREE Shipping & Handling 48 USA
Optional Extra Equipment

LS-4
Set Of 4 Load Stops
130.00
KS-1
Kayak Saddle Set for One Kayak
170.00
K-ST
Set of Two 8' Straps for Kayak
20.00
C-ST
Set of Two 15' Straps for Canoe
25.00
Standard Rack is shipped as 65" wide.
Optional 53" width is available at no extra charge
( Please request shorter rack size if desired, when ordering)
Each rack includes 2 LB-1 loading bars / extensions.