Universal Kayak Saddles
fit Car or Truck Racks
Also Trailer Crossbars

The KS-1 Universal Kayak Carriers can be used on Automobile Factory Racks, Truck Racks, and Trailer Cross Bars. These versatile Kayak Cradles fit Round, Square, and Rectangular Cross Bars. The Firm, yet Flexible Rubber Saddles will conform to most hull Shapes and will not mar the hulls.
MADE IN THE USA
FROM AMERICAN MADE COMPONENTS
High Quality Aluminum and Stainless Steel
FREE SHIPPING *
*within the 48 USA
KS-1 Set is 170.00 + FREE Shipping (48 USA)
Scroll Down the Page for Details & Option's Pricing


Large, pliable Saddles conform to the contour of virtually any boat. Made of weather proof materials, aluminum components will not rust. The soft, yet sturdy, rubber saddle material will not mar or harm your boat. Set includes 4 saddle brackets to carry one kayak
(Fastening bolts are now all hex bolts, not plastic T-heads as seen in photo)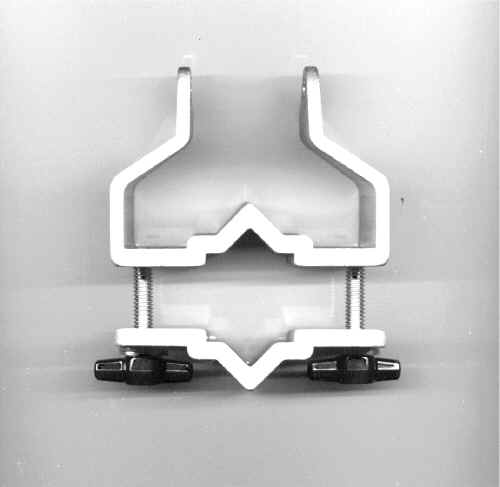 KS-1 Clamp detail - installs easily and quickly. The special configuration fits round, square, and rectangular bars. Supplied with two different size bolts (1-1/2 " and 2-1/2 "), or easily extended with standard bolts
Fits up to 2-3/4" wide x 2-1/4"* high Square or Rectangular racks
Fits up to 2-1/4" round bars
* Height may be extended higher with standard bolts available from local hardware store
(Fastening bolts are now all hex bolts, not plastic T-heads as seen in photo)
Kayak Saddles fit our Roof Rack , Truck Rack and also our Trailex Trailer for Kayaks. The KS-1 Set can also be used on most other racks, such as Thule, Yakima, Barrecrafters, Factory racks, and others.
The saddle's soft pliable cradles conform for a tighter fit on your boat hull.
Saddles can also be used for canoes, however a canoe cover is recommended
KS-1 set of Front & Rear Cradles for one Kayak
170.00 + FREE S&H in 48 USA
Optional Set of two 8' long Saddle Straps 20.00