CastleCraft Sailboat Storage Racks
CastleCraft Seitech & Dynamic Stationary and Roll a Round Storage Racks
for Sailboats, SUP Stand Up Paddle Boards, Row Boats, Pedal and Paddle Boats


Boat Storage Rack for 2 Boats is 775.00 + FREE Shipping (48 USA)
Scroll Down the Page for Other Sizes , and Pricing

Racks can be configured from One to Hundreds
Racks can be placed side by side for multiple installations . Storage Racks are made of aluminum, engineered composite joints and stainless steel fasteners. They are available as stationary or with rolling casters. Ideal for storage or display units. Racks ship UPS.
| | | |
| --- | --- | --- |
| | | |
| Multiple Sailboat Storage Racks Shown on Dock. Note: Customer installed Large PVC pipes in lower rack space for spar storage. Optimist (Opti ) configuration shown | | Racks can be installed on Grass or Ground or Gravel Note: Bottom clearance can be used for spa storage. Sunfish, Laser Sailboats shown |
Customized Racks are Available

Storage Rack with Slide Bunks and Laser Sailboats
Ample storage space underneath accommodates boats loaded on dollies

Nine Boat Rack shown with optional slide bunks and customer supplied spar Storage tubes

Twelve Boat Rack, shown with optional slide bunks and storage space for four launching dollies -
Boats stored on dollies for a total of 16 boats
Extension Racks are available to "Daisy Chain" Racks together. This lowers the cost per rack significantly, and allows you to Build Rack Systems from Two Wide to Literally Hundreds Wide. Start Small and add Racks as you Grow. Contact us for Pricing

See Typical Rack Features in this Video

---
---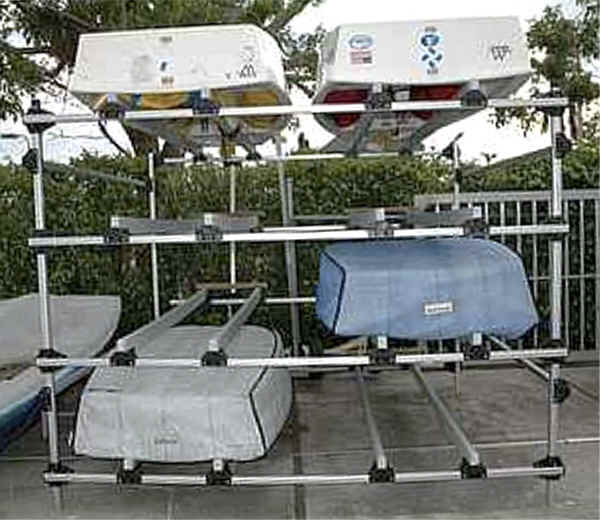 Rack With Optional Slide Bunks and Optional Brackets Installed Use Slide Bunks for:
A. Heavier Boats or Paddle Boats for Easier Loading
B. For Assisting Youths to self store their Own Boats
Sailboat Storage Racks are best equipped with slide bunks for Optimist (Opti), Sabot, El Toro, Open BIC and other small sailboats.
Typical Optimist Sailboat Racks

3 Opti Boat Rack shown with Bunk Brackets included and optional customer supplied slide bunks
6 Optimist Boat Rack shown with included Bunk Brackets and optional customer supplied slide bunks

* Users can also install 2x4's flat side down across the bars
and just bolt them to the rails instead of using the T-Brackets
| | | |
| --- | --- | --- |
| | | |
| Post Base for Bolt Down are Standard | Post Bases are deleted when Caster Option is added | Optional T-Bracket for installing customer supplied slide bunks |
| Post Bases are standard on all box style racks. They allow easy bolt down on wood docks, concrete pads and similar material. When you order casters, the post bases are deleted from the rack. | Optional Casters are industrial grade and are designed for heavy duty usage. Allows easy movement of racks, even when loaded. Works well for Retail Store Displays, Docks or Home Garages. | Adding Four of the Optional T-Brackets per boat space allows you to install wooden slide bunks without any drilling. Brackets clip onto rails and slot fits a 2 X 4 or 2 X 2 on edge. Aluminum slide rails are also available* |

Optional Rack pads are 24" long - Sets come in Pairs Order 2 Sets Per Boat (Front & Rear) -
Use to protect hulls, alternatively use carpet or other materials to cover rack rails
Loading Notes: Adults can easily leverage boats onto racks. For younger users, wooden bunks can be installed to allow boats to slide full length onto racks. Optional drop in brackets for wood bunks are available, or customer may secure bunks by drilling holes to allow screw down points. Wood bunks are not supplied, as it is more economical to obtain them from local lumber yards. Bunks can be covered with carpet. Aluminum slide rails can be ordered from the factory at additional cost.
Racks are weather resistant and can be used indoors or outdoors

PRICES


Sailboat Storage Racks
Also For Row Boats, Pedal & Paddle Boats
All Sailboat Racks have unpadded rails
optional rail pads are available

MODEL
PRICE
SHIPPING

CC-B2A Box - 2 - A* size Sailboats - Stationary Equivalent to: 72000 & 20016

$ 775.00
FREE Shipping (48 USA)

CC-B3A Box - 3 - A* size Sailboats - Stationary
Equivalent to: 72001 & 20018

$ 1245.00
FREE Shipping (48 USA)

CC-B4A

Box - 4 - A* size Sailboats - Stationary
Equivalent to: 72002 & 20020
$ 1445.00
FREE Shipping (48 USA)

CC-B2B

Box - 2 - B* size Sailboats - Stationary
Equivalent to: 72003 & 20016
$ 775.00
FREE Shipping (48 USA)

CC-B3B

Box - 3 - B* size Sailboats - Stationary
Equivalent to: 72004 & 20018
$ 1245.00
FREE Shipping (48 USA)

CC-B4B

Box - 4 - B* size Sailboats - Stationary
Equivalent to: 72005 & 20020
$ 1445.00
FREE Shipping (48 USA)

CC-B6O

BOX Rack For 6 Optimist Sailboats - Stationary Equivalent to: 72006 29002-R-Opti
3 Opti Boats High x 2 Opti Boats Wide
$ 2975.00
FREE Shipping (48 USA)

CC-B9O

BOX Rack For 9 Optimist Sailboats - Stationary Equivalent to: 72006 29002-R -Opti
3 Opti Boats High x 3 Opti Boats Wide
$ 4475.00
FREE Shipping (48 USA)

Note for CC-B6O & CC-B9O BOX Rack For Optimist Sailboats

- these racks are designed for use with Slide Bunks. Brackets are included on these models only - Customer supplies slide bunks. Users may also install their own slide bunks using locally obtained wood and hardware.
CALL
Multiple Rack Systems - Call
Large Custom Rack Systems - Call

CC-RP2

Optional Rack Pads - Set of Two - 24"
Equivalent to: 78500 & 80030 Red Color Only
49.95
FREE Shipping (48 USA)
Only when ordered with rack

CASTER CONVERSION KITS

CC-BCAST

Caster Conversion Kit - BOX Racks
Equivalent to: 74004 & 29996
$ 200.00
FREE Shipping (48 USA)
Only when ordered with rack
Weight Capacity for Box Racks is 300 Lbs per level - Example - 3 High Rack Total Capacity is 900 Lbs
# Caster Conversion Kit for BOX Racks may require some drilling by Customer to Install
*FREE Shipping on Caster Conversion Kits, Only When Ordered At Same Time With Storage Racks
* A size sailboats include - Laser, Sunfish, Opti or up to 58" beam
* B size sailboats include - Laser 2, Vanguard 15, 420, up to 68" beam
These Racks can be Easily Modified to Accommodate SUP Stand Up Paddleboards, Pedal Boats, Paddle Boats, and Row Boats