Trailer Conversion Rack Kit
For Canoes & Kayaks

Trailex Conversion Racks for
Canoes, Kayaks, Surfboards, and Sailboard
Converts Existing Trailers to a Canoe or Kayak Trailer
| | |
| --- | --- |
| | Trailex Ultra-Light Aluminum Racks and Trailer Kits come with a One Year Limited Warranty. Almost 50% lighter than steel racks and they Never Rust |
All Aluminum, All Bolted Construction, All Adjustable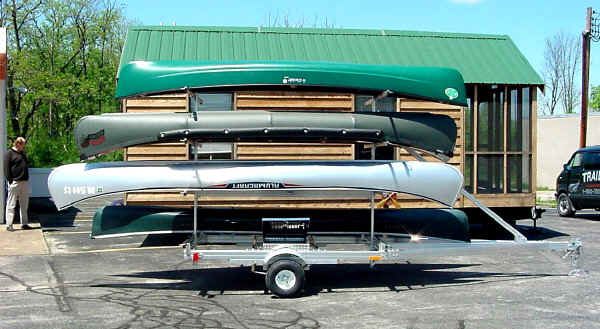 Model TR-801-TRM-KIT Eight Canoe Rack installed on Trailex Trailer
(canoes, trailer frame, box, and display stand not included)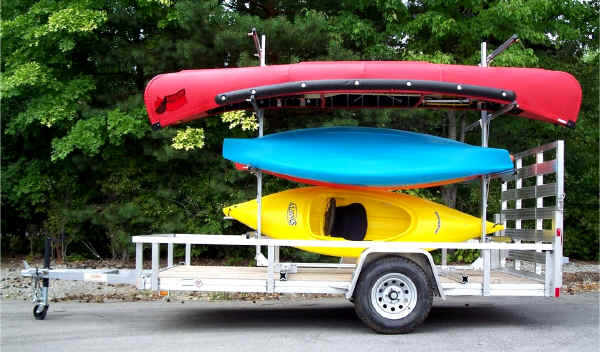 Model TR-801-TRM-KIT Eight Canoe Rack installed on Trailex Flatbed Trailer
(canoes, kayaks, trailer frame, and parking jack not included)
PRICES
Canoe & Kayak
Trailer Conversion Kit


Price

Shipping
48 USA

TR-601-TRM-KIT
Double Tree - 6 Canoes or Multi Kayaks Trailer Rack Conversion Kit

1499.00

+ FREE S&H
TR-801-TRM-KIT
Double Tree - 8 Canoes or Multi Kayaks Trailer Rack Conversion Kit

1699.00

+ FREE S&H
TR-801-TRM-KIT Optional Extra Equipment

30TPAK
Package of 30 Extra T Bolts and Nuts
39.95*
FWSC
Package of Four (4) Extra Web Strap Clips ( For Attaching Strap End Hooks)
24.95*
TR-801 -TRM-KIT Rack comes with 24 Web Strap Clips - Included Standard.
*Accessories Qualify for Free Shipping with Purchase of Storage Rack

* TRM-KIT Trailer Mounting Kit Consists of Two 84" Wide Cross Bar Sections and Brackets. These Cross Bars can Slide anywhere along the length of the Bottom Rack Longitudinal Member. This allows easy Spacing adjustment on your Trailer Bed. Due to the Wide Variety of Trailers, this Kit

DOES NOT INCLUDE

attachment Hardware to your Trailer. However, Common Brackets and Attachments can be Found in Hardware and Automotive Parts Stores. The Cross Bars allow this Kit to Fit Frame Trailers up to 84" Wide - Excess width can be cut down by the installer. If installing on a Steel Frame Trailer, Install a section of Rubber Padding between the Aluminum member and the Steel member to compensate for the material differences. Installing this Kit Does Require A Fair Amount of Mechanical Knowledge.
TRM-KIT Trailer Mounting Kit includes
Two Sliding 84" Long Crossbars
Which Can Adjust to Fit Many Trailers
Typical Installation on a
Flatbed Utility Trailer
Sliding Crossbars allow Spacing
Around Fenders and Other Trailer Features

What Kind of Trailer Can this Rack be Installed On?
Using the Trailer Mounting Kit allows you to adapt the Storage Rack to a Fishing Boat Trailer, Utility Trailer, Flat Bed Trailer, and other Style Trailers. This allows you the versatility of removing the Rack and Still use your Trailer for Other Purposes.
You will need to Consider the Following:
A. Weight Capacity - The Trailer needs to have sufficient Weight Capacity. The TR-801-TRM-KIT Rack is 130 lbs. Adding the Weight of Boats and Gear gives you the minimum needed Weight Capacity:
EXAMPLE: 8 Canoes @ 80 lb each = 640 lb + 130 lb for the Rack & Kit = 770 lb. The Minimum Weight Capacity Rating of the Trailer would have to be 770 lb or more.
B. Width - On a Frame Style Fishing Boat Trailer, the Frame has to be 84" or less , outside to outside. Flat Bed and Utility trailers can be wider than 84", if you can fasten the cross members to the frame under the decking.
C. Length -The Trailer needs to be long enough to handle the length of the Boats you plan to Transport. Most States allow an Overhang of up to 4 Feet, before requiring Flags or Lights on the ends. Check your Local Regulations.
Conversion Rack can also be used for Off Trailer Storage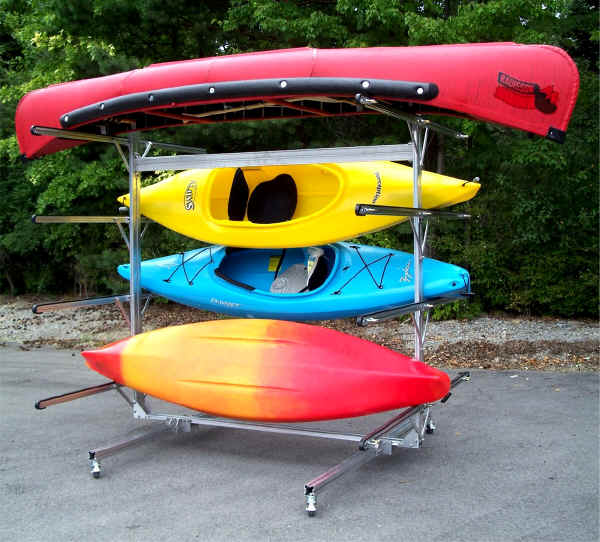 Trailex Model TR-801 Rack with Rolling Caster Option
(canoe, kayaks not included)
CLICK HERE to See Storage Rack Options
Patented T-Bolt Construction

Fully Adjustable

Heads of bolts slide to any position.

Requires only one wrench to tighten

Lock nuts on all bolts

Strong & lightweight