Extension Bed Rack for Pickup Trucks
Carry long loads on a Pick Up Truck
Boats, Canoes, Kayaks


A great solution for carrying your favorite Boat, Canoe or Kayak in your Pickup Truck Bed. No need to buy an overhead rack system. Gives you extra support and stability.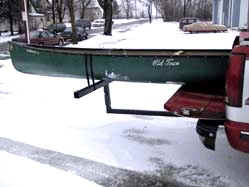 47" Wide Tee Bar will carry many Boat Types
Adds 4 feet to Bed Length

EBR-1 Call for Price
Scroll Down the Page for Details & Option's Pricing
Made of heavy duty, black painted steel. This Pickup Truck Bed Extension Rack fits into a standard 2" receiver hitch. This adds 4 feet to the length of your truck. Carry long Boats, Canoes or Kayaks. Also useful for transporting extra length building materials. Top Tee Bar is 47" wide. Weighs 39 lbs.
EBR-1 1 Extension Bed Rack Call for Price